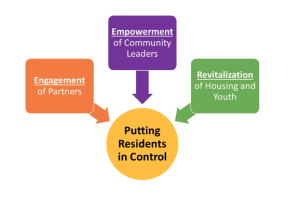 In an effort to return this community to a neighborhood of choice, the EGT Initiative has embarked on a 3-step process designed to assess needs and create solutions that place residents at the center of the transformation.  Our primary goal is to move residents from being simply recipients of services to becoming in control of their community.
Engagement– EGT residents and partners are working collectively to improve neighborhood conditions, increase opportunities for homeownership, foster collaboration between community residents, organizations and local government, provide expanded educational enrichment and youth service programs, and support household stabilization and asset building.
Capacity Building – Inspiring over 40 residents to stand up, lift their voices and take a hands-on role in affecting change. Providing residents leadership training designed to help conduct research in their neighborhoods, identify existing problems, connect  to key community resources, and design effective strategies to address community issues
Revitalization –  CCIP in partnership with residents and  local government is  addressing neighborhood nuisance properties, combatting blighted and problem properties that attract crime and jeopardize the health and safety of the residents.
Youth Programming –Before EGT, youth were hanging out on the streets causing disruptions in the neighborhood, or kept inside by parents in fear of the criminal activities going on throughout the community.  CCIP, in partnership with a community church (North Chester Baptist Church), opened the doors to the EGT Community Center where youth have  access to programs and resources that foster growth, well-being and achievement. Click here to fill out a Participant Application.